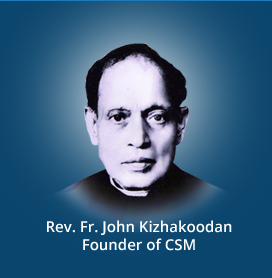 'LOVE SERVES' The saintly life of honourable Fr. John Kizhakkudan is a perfect example of this great motto. He had a very little money but a heart of gold which was kindness and tolerance personified. The person of Fr. John was the personification of selfless love and true service. He was born as the second son among the 7 children of Kannoth Kizhakkudan Kochauseph and Kunjilakkutty. The L P School at Pariyaram and St. Thomas High School at Trichur are his Alma maters. His insatiable thirst for following the foot steps of Jesus Christ led him to Candi seminary at Sreelanka on the 17th of April 1898.

There he was equipped to be a dedicated ambassador of Christ Jesus who had a burning fervor to gain souls for the Lord. Fulfilling his wishes and the prayers of his dear and near ones he was anointed as a priest on 21st December 1907. He was a very good pastor according to the heart of Jesus. He had a preferential option for the poor, the least, the last and the lost of the society. Simple living and higher thinking made him different from others. The services he rendered in St. Thomas H. S, the parishes of Elinjipra, Vellikkulangara, West fort Trichur and Nedupuzha reveal his deep rooted faith in the providence of God and his determination for hard work. Those who know him at close quarters witnessed that he was the picture of contentment, tolerance and obedience- the epitome of the noblest of human qualities. The leadership he took for the construction of churches in his parishes was praise worthy and admirable. He could achieve things from nothingness having faith in Jesus.

St. Anne's orphanage and the founding of the congregation of Sisters of St. Martha on the 15th of August 1948 made him live in the hearts of the poor,needy and the down trodden. His devotion to Blessed Virgin Mary was so unique. He breathed his last on the 15th of November 1960 at his 76th year of birth. He stands as a lighted candle that gives light to plenty of his admirers leaving behind an indelible mark in the history.